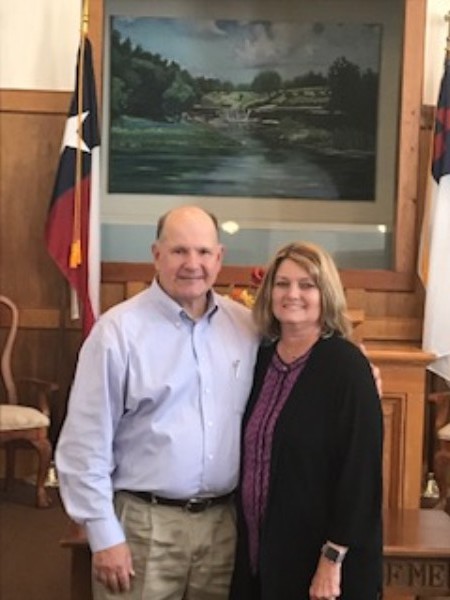 SPECIAL MESSAGE FROM PASTOR JACK
DEAR MEMBERS OF PBC,
THESE ARE TRYING TIMES FOR ALL OF US DURING THE CORONA VIRUS THREAT. I CHALLENGE YOU NOT TO LET FEAR RULE OVER YOUR HEARTS -- THESE TIMES WILL PASS. GOD IS CHALLENGING US TO TRUST IN HIM MORE THAN EVER BEFORE. WE BELIEVE GOD IS SOVEREIGN AND IN CONTROL OF ALL EVENTS IN OUR LIVES. I BELIEVE GOD IS SENDING THE WORLD A STRONG WARNING THAT NO PLACE IS SAFE OUTSIDE HIS WILL AND PURPOSE FOR OUR LIVES. I ASK YOU TO PRAY FOR GOD TO KEEP ALL OF US SAFE, HEALTHY, FEARLESS, FAITHFUL, AND JOYFUL GOD IS ALWAYS A "REFUGE IN TIMES OF TROUBLE." PRAY FOR OUR NEIGHBORS AND THE NATIONS. PRAY FOR THE LEADERS OF OUR GOVERNMENT TO BE FILLED WITH WISDOM AND DIRECTION. PRAY FOR ONE ANOTHER, AND CONTINUE TO REACH OUT TO CHURCH MEMBERS AND PEOPLE IN YOUR COMMUNITY. YOU WILL FIND OPPORTUNITIES TO MINISTER TO OTHERS IF YOU SEEK AND CONNECT WITH THEM. LISTEN TO THEIR STORIES. PRAY FOR PEOPLE WHO NEED THE LORD. GOD CAN USE TOUGH TIMES TO SOFTEN THE HARDEST OF HEARTS.
MY PREVIOUS COMMUNICATION TO YOU STATED WE WOULD MEET AGAIN UNTIL APRIL 5, 2020, BUT IT'S IMPORTANT FOR ALL OF US TO FOLLOW STATE AND NATIONAL LEADERSHIP IN REGARDS TO THE VIRUS. IT SEEMS ALL OTHER CHURCHES ARE FOLLOWING THE SAME PROTOCOL. IT IS CLEAR THAT WE MAY NOT BE ABLE TO MEET FOR SEVERAL MONTHS! I KNOW THIS IS DISAPPOINTING TO ALL OF US! YOUR SAFETY IS IMPORTANT TO OUR LEADERSHIP TEAM. WE LOVE YOU AND WANT THE BEST FOR YOUR LIVES WHICH INCLUDES BEING WISE ABOUT THIS VIRUS. IT'S DANGEROUS, DEADLY AND MOVES FAST. IT'S DIFFICULT TO DEAL WITH BECAUSE IT JUMPED FROM ANIMALS TO HUMANS -- TOTALLY UNLIKE SEASONAL FLU. ALL OF US HAVE SOME IMMUNITY TO SEASONAL FLU, BUT WE HAVE NO IMMUNITY TO THE CORONA VIRUS WHICH AGGRESSIVELY ATTACKS THE LUNGS.
OUR LEADERSHIP TEAM STRONGLY RECOMMENDS THAT WE NOT MEET UNTIL WE ARE DIRECTED TO BY STATE AUTHORITIES. I CANNOT TELL YOU HOW LONG THIS MIGHT LAST. THEREFORE, IT IS IMPERATIVE THAT WE STAY IN TOUCH WITH EACH OTHER BY PHONE, TEXTING, FACEBOOK, AND UTILIZATION OF THE CHURCH WEBSITE. I DO NOT WANT ANY CHURCH MEMBER GOING WITHOUT THE BASIC NECESSITIES OF LIFE. SEVERAL MEMBERS HAVE OFFERED TO HELP IN DIFFERENT WAYS, SO DO NOT BE SHY ASKING FOR HELP WHEN NEEDED.
RESPECTUFULLY, KINDLY, PLEASE DO NOT FORGET THAT WE HAVE ONGOING BILLS TO PAY, SO AS GOD GIVES YOU THE ABILITY, PLEASE MAIL YOUR TITHES TO THE CHURCH AT:
PLANTERSVILLE BAPTIST CHURCH
P.O. BOX 279
PLANTERSVILLE, TX 77363
CHURCH, I LOVE YOU AND MISS YOU DEARLY. HANG IN THERE. DON'T LET YOUR HEART BE TROUBLED! THIS TO SHALL PASS. WHEN IT'S OVER WE WILL THANK THE LORD FOR HIS PROTECTION, PROVISION, AND CELEBRATE HIS BANNER OF LOVE OVER US!
WE WILL RE-EVALUATE THE SEVERITY OF THE CURRENT THREAT WEEKLY AND UPDATE OUR STATUS THROUGH SOCIAL MEDIA OR BY PHONE.
In Christ,
Brother Jack
For God has not given us a spirit of fear,
but of power and of love and of a sound mind.
2 Timothy 1:7 NKJV