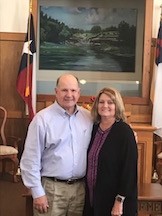 Plantersville Baptist Church

is pleased to announce the conclusion of a pastoral search that lasted for more than one year. On Sunday, November 25th, 2018, Pastor Jack M. Redfearn, Jr. was unanimously selected by secret ballot by members of Plantersville Baptist Church as our permanent Pastor. Brother Jack had been visiting and preaching at the church for several months.
Brother Jack served 34 years as senior pastor in Southern Baptist churches. He spent 19 years as senior pastor of West Hartselle Baptist Church in Hartselle, Alabama. He and his
wife Lisa have been married for 44 years and have
3 adult children in both Texas and Alabama.
Brother Jack served in the US Marine Corps from 1975 – 1979. He served in Europe and the Mediterranean, and he
and Lisa lived in Okinawa, Japan from 1978 – 1979.
His Bachelor of Arts degree is from Luther Rice Seminary
in Jacksonville, Florida. His Bachelor of Ministry is from
Brewton Parker Baptist College in Mount Vernon, Georgia,
and his graduate work includes a Master's degree in
Theological
Studies from Southwestern Theological
Seminary in Fort Worth, Texas. Pastor Redfearn is also
currently employed as a Bereavement Coordinator and Chaplain with Kindred Hospice,
the largest provider of
hospice
care in the nation.
If you would like to experience a loving community of
Christians in which to grow and serve under a dynamic
pastor, please consider visiting Plantersville Baptist Church.
It is one of the oldest – if not the oldest - churches in Texas
that is still worshipping in the original building.
Many rural churches are losing members. Plantersville Baptist is growing and expanding its ministry in our community, which has become incorporated and will grow with the change of freeways and commerce that will soon impact our area.
You are
encouraged to come and grow with us.
We are blessed to have Bro.Jack Redfearn as our Pastor.
He and Lisa are such a welcomed addition to our
church family.
Church contact information
-
Pastor Jack Redfearn

936-777-2037
---